Code Name Verity: A Review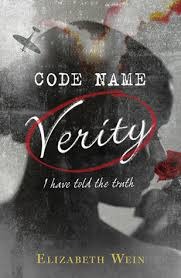 When "Verity" is arrested by the Gestapo, she's sure she doesn't stand a chance. As a secret agent captured in enemy territory, she's living a spy's worst nightmare. Her Nazi interrogators give her a simple choice: reveal her mission or face a grisly execution.
As she intricately weaves her confession, Verity uncovers her past, how she became friends with the pilot Maddie, and why she left Maddie in the wrecked fuselage of their plane. On each new scrap of paper, Verity battles for her life, confronting her views on courage, failure and her desperate hope to make it home. But will trading her secrets be enough to save her from the enemy?
Code Name Verity is not a relaxing read. People, this book is intense. It kept me reading anxiously to the very end. It's a gripping and heartfelt story about war and friendship.
This book is not written in a "normal" way. Since it's written in first person, in an epistolary style, and jumps from subject to subject, it can seem a little haphazard. But you can also tell the author is doing something with this seemingly random information. And that keeps your interest.
And, I'll be honest, I thought the style of the writing was a little . . . gushy, effusive? Something like that. It got a little wearisome in parts. However, it felt authentic. "Verity" is an Oxford-educated young woman from the upper crust of Scottish society in the 1940s. She is going to have a different way of speaking than modern day Americans. And it reminded me of all the dialogue I'd read in Agatha Christie's (British) mysteries set in the same era, so I felt it was spot on.
Although I enjoyed this book, it left me quite depressed – I was not expecting that ending. And Code Name Verity is the most engrossing and moving novel I've read this year. The stakes are higher in this book. It causes the reader to invest more emotion, there are lives and the fates of countries hanging in the balance. It's haunting, poignant. It will stay with you for a long time.
There are a few implausible aspects in the plot, and the book does have some offensive language, but overall it was a compelling read, so I'm giving it four stars!