10 Picture Books You Need in Your Life
Picture books are a ton of fun to read

.
Enjoying a picture book might be considered immature or silly, but I have 3 reasons why it probably

isn't.
1.

Y

ou will

miss out

if y

ou

ignore all

the talented

art

and storytelling in the picture book ge

nre

.

2

.

P

icture books are just adorable.
3. Everyone

likes to see pictures of their favorite characters, eve

n

teens and grown-ups

.

T

hat's why we

make

boards for our favorite books on Pinterest. Or, you could just read a book with pictures so you don't have to hunt down art on the internet. (Totally sensible solution, right

?

)
So, if you haven't guessed it a

lready,

I read picture books. This is partly for my job, because I read to preschoolers at library story time, but partly because I just like to browse through a picture book now and then.
I'm going to share a list of my favorite picture books today

.

Even if you don't read these kind of books, maybe your child, niece, nephew or young sibling does, so check out this list!
The Gruffalo's Child by Julia Donaldson
This delightful book is told in rhyming verse. It is about a baby gruffalo who goes searching for a huge, scary mouse that her daddy told her about. The Gruffalo's Child is actually the sequel to The Gruffalo, but you don't have to read it first. The rhythm of this story is c

atchy

and fun

. B

eware, you

might

be quoting th

e catchy line,

"Aho, oho, tracks in the snow!" for weeks after reading this book. Not saying

that

I did th

is

, or anything...

u

m

,

yeah. Moving on.
Mrs. Armitage on Wheels by Quentin

Blake
This book is older, and I remember it being read to me when I was about

5 years old

. I loved it. Mrs. Armitage is indomitable, creative, and entirely silly in her attempt to craft the perfect bike. It was so much fun to see what the main character would do next. It was so relatable, had so much truth, and came to a wonderful conclusion.
The Princess and the Pizza by Mary Jane Auch and Herm Auch
Another one of my childhood favorites. I loved the main character, Paula. She is smart and spunky, and she makes pizza! I appreciated the lightheartedness and sarcasm in this story as a child. I still like it today.
Stuck by Oliver Jeffers
I was introduced to this book during story time at the library where I work. It's a wonderfully silly story about a little boy who can't get his kite out of a tree. His approach to solving this problem becomes more and more ridiculous, and you can't help laughing as the problem escalates.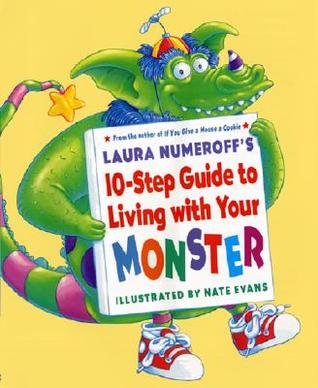 Laura Numeroff's 10 Step Guide to Living With Your Monster by

Laura Numeroff
You might know Laura Numerhoff from the popular "If You Give a..." books. Well, this time she's back with first rate advice on raising a happy and healthy monster. It's great fun.
One Cool Friend by Toni Buzzeo
This book is about a boy named Elliot, and how he takes a penguin from a local zoo and keeps it in his house. Elliot's penchant for bow ties and his impeccable manners set him apart in the picture book world, and it's always nice to see authors write something different.
St. George and The Dragon
by Margaret
Hodges
This book is epic. Yes, picture books can be epic, and this is one is simply amazing. It's a short, illustrated retelling of St. George and the Dragon. The paintings are beautiful, detailed and engrossing. I would recommend this for ages 6+ because a dragon does get killed here, and that's a little scary and all. But it's a neat book - read it!
The Day Louis Got Eaten by John Fardell
I stumbled across this book the other day. It's an exciting story about a sister and brother who go for a bike ride in the woods, and then Louis gets swallowed by a Gulper, his sister Sarah eventually rescues him, but not before the Gulper gets swallowed by another creature, and that creature gets swallowed by another, and, you get the idea. It's a weird, but cut

e story, and

I love how Sarah and Louis take care of each other, and how everything turns out okay in the end.
The Mitten by Jan Brett
If you haven't read Jan Brett as a child, well, you need to read some of her books as soon as possible! Each one of her books is gorgeously illustrated. There

is

so much detail, so much color and oh, the

se books are

just perfect. Try starting with The Mitten

. It's a fun retelling of an old folk tale.
Angelina Ballerina
by Katerine Holabird and
Helen Craig
Again, beautiful illustrations in this book. The pictures alone are worth it. The cozy watercolor art makes a perfect background for the young mouse Angelina as she pursues ballet and learns some good lessons along the w

ay.
What are some of your favorite books from your childhood? Do you have a favorite author or illustrator

of

picture books? And, real talk here, do you still read picture books sometimes?